Merhabalar! Bu yazimda sizlere Bourjois Healthy Mix Serum Fondöteninden bahsedecegim. Bir ara en sevdigim fondötenimdi ve hala da cok seviyorum! Bunu
www.cosmetics-skincare.co.uk
sayfasindan ismarladim. O sayfayi cok seviyorum, cünkü Ingiltere markalarini uygun fyatlara bulabiliyorsunuz, kargo ücreti az ve hemen elinize ulasiyor paketiniz.
Hello everyone! Today's review is on the Bourjois Healthy Mix Serum Foundation. This is one of my favorite foundations so far! I've ordered this from www.cosmetics-skincare.co.uk which is a website based in the UK and that sells High-End, as well as Drugstore products for a lot cheaper than the retail prices. I think you should check it out. The owner ships worldwide!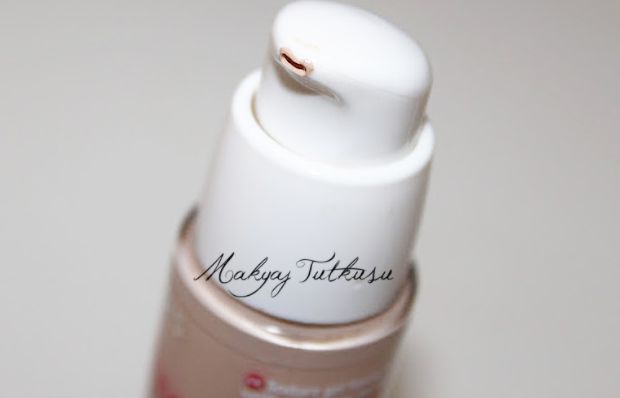 Sisesi sanirim plastikten yapilmis, ama cam gibi hissediyor. Tam olarak ne oldugunu söyleyemem, ama camdan olsaydi daha agir olurdu sanirim. Paketinin en büyük avantaji, pompali olmasi. Bu ürünün dozunu dogru ayarlayabilmenizi sagliyor ve israf etmenizi engelliyor. Agzi acik pompasiz fondötenleri hic hijyenik bulmuyorum (mesela Revlon Colorstay Foundation).

I believe the bottle is made out of plastic, but it feels like glass when you touch it. I'm not quite sure to be honest, but I think it would be heavier if it were made out of glass. The biggest pro for the bottle is that it has a pump which makes it so much easier to dispense and measure out how much you actually need without wasting any product. Foundations that do not have a pump are so unhygienic in my opinion.
Swatches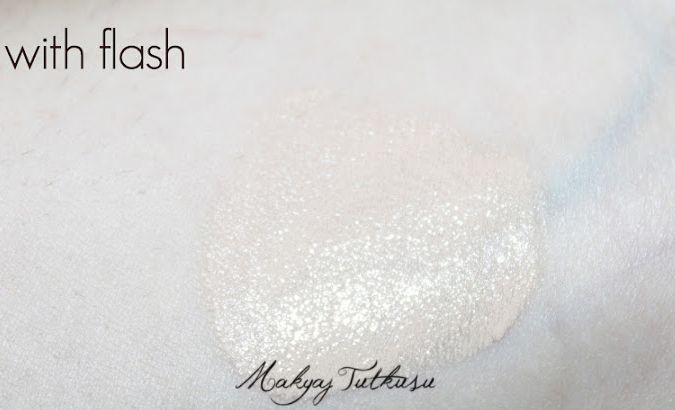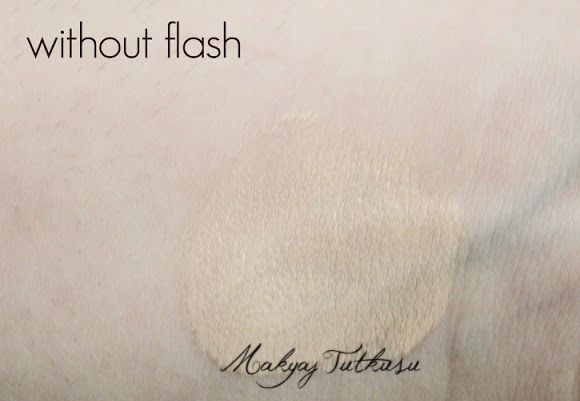 Yedirilmis hali.
Blended out: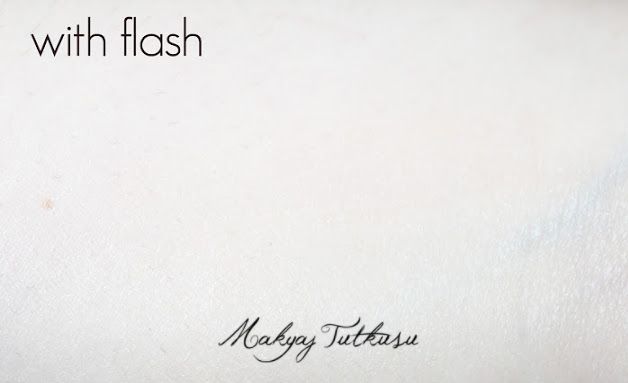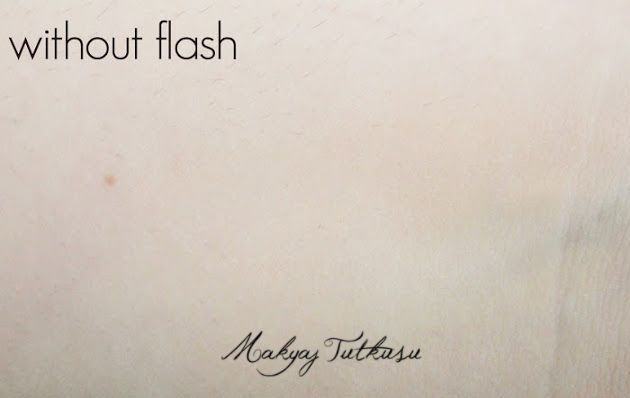 Yapisi cok hafif ve cok yumusak. Elinizle uyguladiginizda cok cok iyi yediriliyor ve o kadar hafif hissediyor ki cildinizde, sanki üzerinde hicbir sey yokmus gibi! Cildiniz gercekten nefes alabiliyor ve yüzünüze bir kalip gibi yapisip kalmiyor. Bunun yapisini ve bitisini Chanel Vitalumiere Aqua fondötenine cok benzetiyorum, ama Chanel'in yapisi biraz daha sivi ve bitisi biraz daha parlak. Ikisini yan yana swatchlasam kesinlikle ayni görünür, ama yüzdeki duruslari biraz farkli. Bourjois'nin da hafif parlak bir bitisi var, ama Chanel yüzünüze daha cok 'glow' veriyor. Yine de Chanel'e en yakin fondötenin bu oldugunu düsünüyorum. Yani daha uygun fiyatli bir dupe ariyorsaniz, Healthy Mix Serum'u cok öneririm sizlere.

This foundation feels really light and soft on your skin. It is very blendable when you apply it with your hands. It has a silky kind of feeling to it which I love! And the best thing about it is that - unlike most foundations - your skin can actually breathe under this! Many people like to compare this foundation to the Chanel Vitalumiere Aqua Foundation, and I do admit that it is quite similar in substance, however the finish is a little different. While Chanel has a very luminous, silky and glowy finish, the Bourjois Foundation is a little less glowy and can sometimes even look matte. Also, the Chanel one is a little more liquidy, because - like the name says - it is a water-based foundation and if you do not shake it good enough before using, you will see the water coming out first before the foundation itself. All in all, I think the Bourjois is quite similar to the Chanel one, except for the consistency and the finish, but if you're on a hunt for a cheaper alternative to Chanel, then I do recommend Bourjois!
Uygulanmis hali...
How it looks on my skin...
Kapaticiligi orta, ama benim cildim icin mükemmel, cünkü benim cok kapaticiliga ihtiyacim yok. Ben genelde bunu Beautyblender tarzinda bir sünger ile uyguluyordum ve bana cok iyi bir sonuc veriyordu. Süngeri islatip uygulayinca daha da güzel yediriliyordu ve daha da hos duruyordu cildin üzerinde. Eger cildinizde cok problem yoksa ve az kapaticiliga ihtiyaciniz varsa, o zaman mutlaka bunu denemeniz lazim diyorum. Eger kapaticiligiyla memnun degilseniz, kuruduktan sonra bir kat daha uygulayip arttirabilirsiniz, yani kapaticiligini ayarlayabilirsiniz. Ben sahsen uyguladiktan sonra pudraya gerek duymadim, cünkü bitisi cok hosuma gidiyordu. Özellikle yaz aylari icin cok ama cok güzel duruyor cildinizde, kesinlikle öneririm bu fondöteni!
The Healthy Mix Serum foundation has a medium coverage, but that is exactly what I need, as I usually don't have any blemishes and don't need much coverage. Most of the time I used a Beautyblender-like sponge to apply it and the outcome was great! If you apply it with your hands, of course the coverage will be better, or if you want extra coverage, then you can wait for the first layer to dry and then apply another layer of the foundation on top. Personally, I didn't use any powder to set this foundation, because I liked the luminous finish and didn't want to mattify my face. I didn't experience any 'moving' or creasing of the foundation without a powder. I think this is perfect for the summer or humid days, because it makes your skin look very healthy and allows it to breathe. I highly recommend this!Fiyat olarak da gayet uygun. Ben bunu dogru hatirliyorsam 6 poundsa aldim, bu yaklasik 7€ yapiyor. Cok iyi bir fiyat! Icerigi 30 ml, yani standart fondöten gramaji. Benim rengim 52 Vanilla idi. Su an maalesef bitti, ama yaz gelmeden tekrar alacagim, cünkü bu benim yaz fondötenim. :-)

The price of this is great! I bought it online for around 6 pounds. It has 30 ml in it, which is standard for foundations. The color that I had was the lightest shade 52 Vanilla. I was lucky that it matched my skintone perfectly! I had my doubts about it at first, but when I got it in the mail and tried it on, it was the most perfect match for my skintone! I'm definitely buying this again for summer, because this has become my most loved summer foundation!
Sanirim bu ürün hakkinda diyecek baska bir sey yok. Umarim bu yaziyi begenmissinizdir ve umarim size uygun bir fondötene benziyorsa alirsiniz. :-)
I hope that you enjoyed this review and I hope you'll purchase it, too. :-)
- iheartsu
Instagram: iheartsu
Mail: theheartscalling@gmail.com
----------